At Karibu we are fortunate to be located away from the busy trading centres, main roads and bars which makes it a peaceful, tranquil place to either relax or begin exploring Entebbe.
Birds at Karibu
Our hillside location and mature gardens mean we are fortunate to be visited by a large variety of birdlife. In the past year we have spotted 36 different species of birds in our garden, from miniscule Fire-Finches to our resident Palm Nut Vulture.

Things to do in Entebbe
Entebbe is located on a small peninsular in Lake Victoria around 40kms from the capital city of Uganda – Kampala. All major international flights come through Entebbe airport, however there is more to do here than just catch a flight! Karibu can advise on, organise, or book all of the following activities, please contact us if you would like more information:
Entebbe Botanical Gardens
Just 5 minutes from Karibu, the Botanical Gardens were established in 1898 and are home to over 300 varieties of exotic plant species as well as an abundance of birdlife, Black and White Colobus and Vervet Monkeys.
The rainforest zone in the gardens was used as a backdrop during the filming of the original "Tarzan" film in 1940. Entry is a few dollars in local currency (additional charges if you have a camera or take a guide).
Uganda Wildlife Education Centre
Also close by, the Uganda Wildlife Education Centre (UWEC) is a centre for the recuperation, breeding and rehabilitation of native Ugandan animals that have been rescued from poachers or illegal traders, or from injury in their wild habitats. UWEC strive to release rehabilitated animals back into the wild when possible and also work to educate the people of Uganda about the importance of our local animals and conservation.
You can visit UWEC to see some of Uganda's unique and rare animals such as the shoebill stork, rhino, chimpanzee, ostrich and hyena. Other more in-depth visits are also available such as "Chimpanzee Close-up", "Behind the Scenes Tours" and "Keeper for a Day Experience".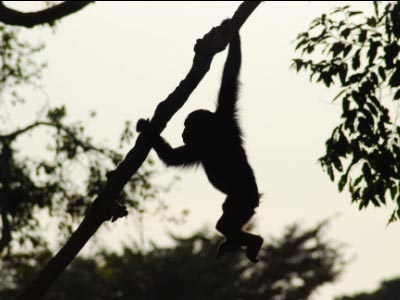 Ngamba Island Chimpanzee Sanctuary
Founded by the Jane Goodall Institute in 1998 this 100 acre island is a refuge for over 40 rescued chimpanzees. You can visit the island as a half-day trip departing at either 9am or 1pm. It is also possible to experience the chimpanzees "close up" although this must be booked well in advance to make sure you have all the necessary vaccinations.
18 Hole Golf Course
Entebbe has a well-groomed 18 hole course dotted with exotic trees and even the odd monkey! Day membership and club hire are available to travellers.
Sport Fishing on Lake Victoria
Half or Full-Day boat trips are available on the lake to fish for the legendary Nile Perch, known for their size and exciting fishing. The best is to go as a small group (3-4 people) as it splits the cost of the boat.
Search for Shoebill in Mbamba Swamp
A half day trip (early morning is best), 1 hour from Entebbe are the Mbamba swamps, a fantastic habitat to spot the rare Shoebill Stork in the wild. A trip includes return transfers from Karibu as well as a boat through the swamp.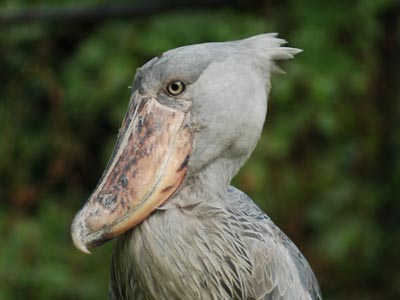 Sunset Boat Cruises on Lake Victoria
Take a 1 – 1 ½ hour cruise out onto the lake to watch the beautiful colours created by the sun as it sets on the horizon. This is also a great opportunity to see some amazing bird life on the waters edge. There are a couple of options for the cruise, we can advise you on the best to suit your needs.