If you're still feeling active, there are an excellent range of other fun activities available in the area. Go with our very own barmen on a dhow trip (local sailing boat) to the islands, snorkel with sea stars, discover the pansy shells and explore more about the Mozambican culture by visiting his local village. Or you can go kayaking though the mangroves in the estuary and swim with seahorses and other shallow reef life. Wanna see bigger fishes? Hop on a deep sea fishing charter with an experienced fishing enthusiastic and catch tuna, barracuda (delicious for the braai later on), dorado or marlin. If you fancy a boat trip you can also jump on a 36 foot catamaran and soak into one of the most beautiful sunsets you will ever see.
If you are more up for some relaxation, just around the corner from our Motel is the well-known Turtle Cove, who are a close-by for yoga & meditation sessions.
We can arrange all of the above for you, feel free to ask us anything!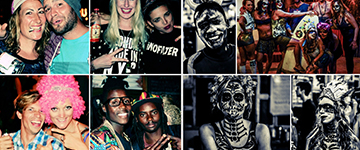 Nightlife and Entertainment @ at our Motel