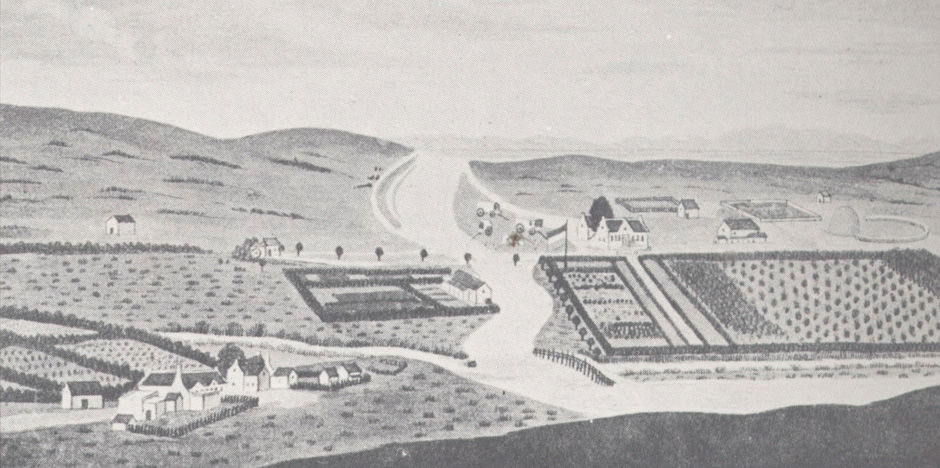 History
Governor Hendrik Swellengrebel's father, Johannes came to the Cape as a bookkeeper in the service of the Dutch East India Company in 1697. He advanced quickly to the post of deputy merchant and member of the Council of Policy.
Johannes married Johanna Cruse, daughter of Hieronymus Cruse, the first man to visit this district by wagon in 1667.
The eldest child of this marriage, Hendrik, was born in the Cape on 20 September 1700. He began his career in the service of the Dutch East India Company at the age of thirteen as a junior clerk. At seventeen he was promoted to book-keeper. Soon after this he was appointed to the post of head clerk and at twenty-four he became a junior merchant and a full member of the Council of Policy. In 1737 he advanced to senior merchant as well as Deputy Governor.
After the death of Governor van Kervel and amidst a lot of controversy, Swellengrebel was appointed Governor of the Cape by the Lords Seventeen.
Governor Hendrik Swellengrebel was hard-working and responsible, and very popular amongst the colonists. He was the first Cape-born man to occupy this rank and was therefore in a good position to identify the needs of the local community. He was known for his hospitality and peace loving nature. The Lords Seventeen also appreciated his qualities and honoured him with the rank of Extraordinary Member of the 'Council of India'. This council advised the Lords Seventeen on matters relating to the eastern colonies.
Hendrik Swellengrebel married Helena Ten Damme in 1727 and they had eight children.
When a new landdrost district was formed during his term of office, it was named Swellendam in honour of them.
Swellengrebel's wife died in 1746 and in 1749 he made application for his retirement. He left the Cape with his children in 1751 and sailed back to Holland where he married Helena van Ruyven. He died in Utrecht at the age of sixty.
Although neither the Governor nor his wife ever visited Swellendam, the family nevertheless kept close contact with the Drostdy. His son, Hendrik, a horticulturist, visited the Drostdy in 1776 during one of his tours of the interior. On this occasion a member of his party, Johannes Schumacher, made the well-known water-colour sketch of the Drostdy settlement.
Services & Facilities
Conferencing & Banquets
Conference meetings upto 150 – 200 delegates can be accommodated depending on style of conference. Breakaway rooms are available. Buffet Dinners, Cocktail Functions, Weddings, Braais, Theme Evenings and other formal and informal functions are easily catered for up to 250 guests. We have the right amount of experience and expertise to host a professional conference, with a creative environment and relaxing atmosphere. This is most important when hosting a conference. Please contact us if you have any questions regarding our conferencing facilities. We look forward to hosting your next conference.
General Facilities
Swimming pool, Jacuzzi, Sauna and BBQ facilities are available to guests. A children's playground is available in close proximity. A Fitness Centre with a variety of equipment is also available to guests. Off premises the guests can enjoy Golf, Squash and Tennis. The famous Swellendam National Hiking Trail in the Marloth Nature Reserve is just up the road from the hotel in the picturesque Langeberg Mountains.
Group Facilities
Tour groups are most welcome and the Hotel's famous traditional Buffet is available daily for groups of 20 and more that have made reservations before their arrival date. These sumptuous meals are served in our Esplanada Dining Room. Up to 250 guests can be served during meal times. Tour groups that have not made reservations are catered for in the Jorge's Restaurant.
Jorge's Restaurant
The Jorge's Restaurant specializes in French, Portuguese and South African cuisine and now also serves traditional Oven Baked Pizzas and Light Meals. This Restaurant is open to both guests and public from 10h30 until late evening.
All rooms have TV's, Telephones, Hairdryers, Guest Safes, Air Conditioning and Coffee/Tea Facilities.

All rooms have SABC 1, 2, 3, Etv, Mnet, Movie Magic, SuperSport

Enjoy the quiet, peaceful atmosphere of the Hotel and its surroundings.