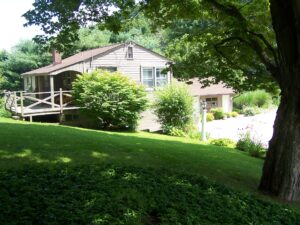 The Inn, echoing the spirit and style of old New England, is a family-owned country inn located on three lush acres, including outdoor pool, hot tub and rambling stream. The Main Inn houses two lovely common rooms available to guests at all time and a seasonal screened-in patio.
The 13 nicely appointed guest rooms all have private bath, air-conditioning, telephones and free wireless internet access. A hearty continental breakfast is served each morning.
The Main Inn was built in 1821. The first floor includes a private restaurant and tavern, the Gathering Room and the Breakfast Room. The second floor includes four classic Bed & Breakfast rooms and a two-bedroom suite. The Country Lodge is a separate building with eight rooms, six at ground level. Each room has its own entrance.
The owners searched for two years and visited 36 inns from Maryland to Maine to find the perfect place to fulfill their dream of owning and operating an authentic country inn while raising their young family. Thirteen years later, they still love the choice they made! Former bed & breakfast owner/operators from Philadelphia, they have breathed new life into the charming and spacious accommodations while retaining the antique charm of the Main Inn and the casual comfort of the Country Lodge.
Accommodation
Four classic Bed & Breakfast rooms and a two-bedroom suite are housed on the second floor of the Main Inn. Just downstairs are the Breakfast Room and the Gathering Room where guests can relax on soft seating, read a book and enjoy the fire. Folks seeking the "bed & breakfast" experience often choose rooms in the Main Inn. To accommodate guests with allergies–The Main Inn is Pet Free.
Rooms
Violet's Victory
A lovely room with a wrought iron queen bed tastefully decorated with antiques and various hues of blue. A private bathroom is directly across the hall from the bedroom ~ plush robes are provided for your convenience.
Periwinkle Pastime
A large sunny room with two wrought iron full beds, wood floors, flat-screen t.v. is furthest from the road for sensitive sleepers. This charming room overlooks the pool and garden.
Laurel Crest
This romantic room has hardwood floors and a wrought iron queen bed topped with a lush mattress for added comfort. The Waverly floral curtains nicely frame the double windows letting in the perfect amount of light.
Suite Marigold
This two-bedroom suite is perfect for parents traveling with children. One bedroom has a California King bed and the second bedroom is furnished with two extra-long twin beds. Both rooms have flat-screen televisions. The large newly renovated bathroom with shower/tub combo is shared by the two rooms. This Suite has become a favorite with parents. Bring along your monitor, put the kids to bed, and go downstairs to enjoy a bottle of wine by the fire in the Gathering Room. While most guests do not notice, this room is close to the two-lane country road and might not be the best choice for light sleepers.
Country Lodge Rooms
Our Pet-friendly Country Lodge offers eight rooms, each with its own entrance and a casual country decor. The Lodge, which is a separate building directly across from the Main Inn, has six of its rooms at ground level and two rooms on the second floor. While the Lodge rooms are on the small side, each room is immaculate, the bathrooms are newer, the showers strong and hot and the beds are of the highest quality! Folks wanting more privacy or a true country experience feel most comfortable in the Lodge rooms.
Starling's Nest
Does your partner kick, toss and turn all night? This super spacious king-size bed will have you sleeping comfortably in no time. Enjoy a newer bathroom with a bathtub and a charming pedestal sink. This room adjoins Dove's Hideaway and is perfect for couples traveling together.
Bluejay Cache
This 2nd-floor cozy room is filled with sunlight and offers a king-size bed. The bathroom has a shower/tub combination for those who like bubble baths. This room, along with Crow's Corner, share a deck overlooking the grassy knoll.
Dove's Hideaway
Cozy garden level room with a knotty-pine queen bed and small sitting area. A bit on the smaller size but comfortable for one or two. This room adjoins Starlings Nest and is also perfect for couples traveling together.
Grouse's Shoes
Two large knotty-pine queen beds are tucked away in this corner room. Two sets of double windows face the back yard leaving any street noises behind. This room is conveniently located on the ground level so don't worry if you have lots of bags.
Finch's Cup
This garden level room features wood floors, two-person sitting area and a nice size shower. It is an end unit offering easy access to/from your car.
Woody Hollow
Cozy garden level room with a wrought-iron queen bed and sitting area. This room offers the privacy couples enjoy.
Wren's Den
Cozy garden level room with an impressive and super comfortable queen bed and sitting area. This room offers the privacy couples enjoy.
Crow's Corner
Count the crows while relaxing on the deck outside this double lodge room. This quiet room that offers a little more space, two queen beds and a comfortable sitting area. With direct access to the yard, it is popular for those traveling with their beloved pooches.
Family Vacations
Tired of feeling like you are doomed to years of roadside motels because you have children under the age of 12? Come see us and we will take good care of you and your little ones. We know what it's like to travel with small children. In fact, most of our staff, including ourselves, have young children so we try our hardest to create a welcoming and easy environment for you and your family.
Amenities Guaranteed To Make Your Little Ones Happy!
Seasonal Pool & Hot tub enjoyed by kids of ALL ages!
Gathering Room is well stocked with board games and books.
Explore Nature on the property, we have a stream and many nooks and crannies kids love to explore with their parents.
Your Baby Monitor works from all Main Inn rooms to the Gathering Room so put your children to bed, plug in a monitor and enjoy a peaceful glass of wine by the fire while your little ones snooze upstairs!
Refrigerator in Breakfast Room
Feel free to bring your child's favorite snacks or Soy-Free milk to store in the breakfast room which is open to guests at all times.
Retreats
Connecticut's Northwest Corner is the perfect spot for colleagues looking to escape the everyday stress of corporate life. Ideally located, the Inn & Restaurant is an excellent place to host your retreat, small conference, annual directors' meeting or team building workshop. Our gathering room offers soft seating, tables/chairs and access to outdoor screened porch perfect for meetings and break-out sessions.
The owners work closely with you to make your event as productive and stress-free as possible. They assist with:
Room set-up.
Audio visual needs.
Suggesting menus for breakfast, lunch, afternoon snack and dinner.
Arranging off site activities.
Activities for spouses.
Accommodations for overflow guests.
The flexible meeting space is ideal for groups of twenty or less. Can't break away from your computer? That's okay, wireless interest access is available to all guests free of charge!
Free Breakfast
Free hearty continental breakfast is served from 8:30 am until 10 am.
Things To Do
The Inn's central location makes a convenient home base for your visit to the area. We are also just minutes away from area private schools: Kent, South Kent, Marvelwood, Hotchkiss, Salisbury, The Gunnery and Indian Mountain. So whether you are considering a private school in the area or simply exploring New England, we are the perfect spot to rest your head at the end of the day!
Just the drive to get there is a vacation!
Indian reservation/ancient burial grounds with archaeological interest. 1400-foot elevation has exceptional mountain views. Fishing, hiking & cross-country skiing.
Professional summer theatre and art gallery on New York-Connecticut border.
The area offers a host of large to small country fairs, including the Goshen Fair, along with farms offering in-season pick-your-own produce including apples, strawberries, raspberries, blueberries and pumpkins.
Antique shops & Art Galleries:
The entire Northwest Corner of Connecticut, from the downtown streets of Torrington to the stops along the way in Litchfield, Kent and Goshen house all types of art galleries and antique and specialty shops.
Traveling With Pets
Cannot bear to leave your beloved pooch behind, well "DOGgonit" don't let us stop you! This Inn's friendly mascot, Leo, will happily greet you with a wag of the tail and a gentle nuzzle of your hand. He would love to show your pooch how to get muddy in the stream, sniff out moles or simply romp around the grassy knoll.
Remember, when booking online to select your favorite LODGE Room (the Main Inn rooms and common areas are PET-FREE, to accommodate those with allergies) and know that both you and your pet will be warmly welcomed!
Event Space
Our space is suitable for up to 40 people in the winter and 55 in summer months including the screened patio. Non-seated events can go up to 75 people.
We offer full three-course meals, buffets and a combination of both! Most successful parties begin with cocktails/appetizers in the tavern then guests move to the dining rooms for a relaxing meal including, soup or salad, entree and dessert.
Private Dining Menu
If you do not see your favorite dish listed, please do not hesitate to ask us…we can accommodate most requests.
Most successful parties begin with cocktails/appetizers in the tavern then guests move to the dining rooms for a relaxing meal including, soup or salad, entree and dessert.
Entrées:
Most entrees are served with a starch (basmati rice, jasmine rice, garlic mashed potatoes, scalloped potatoes, roasted baby bliss potatoes) and a seasonal vegetable. Chef recommendations will be made upon selection of entrées.
One Dish Dinners:
Perfect for those who want to host a wonderful party but are working with a tight budget. Our one dish buffet dinners include one offering, salad, bread and dessert tray. A great way to celebrate without breaking the bank.
Tavern available for private parties
Want to get together with your friends but don't want the hassle of entertaining at your place? Gather ten or more of your friends and enjoy our cozy Tavern all to yourselves! Watch a sporting event on our big screen t.v., play some foosball or tickle the ivories while the group sings along. We are happy to open our tavern doors and serve up some top-notch adult beverages for you and your guests. Want some munchies to go along with your cocktails, no problems…we can do that too! Give us a couple of days' notice and we will make it happen!
Special Occasions
The inn is the perfect place for your special occasion.
With its three individual dining areas, you may select the setting that is perfect for your guests. We can accommodate parties up to 65+ for a sitdown dinner or a casual cocktail reception. Options include a screened dining patio and two connecting dining areas. Full-service tavern available for your guests, as well. Celebrate in a welcoming, relaxed and cozy atmosphere and let our professional staff handle everything for you.
Small Weddings.
Anniversaries.
Reunions.
Birthdays.
Baby showers.
Rehearsal Dinners.
Looking for an intimate ceremony for you and your loved one? View our Wedding Packages with Reverend Sara Henderson.
Don't forget you can stay and celebrate, combining your event with a stay at our inn.