Cosy, Warm and Comfortable Rooms
Each of the 11 bedrooms in our Cooperstown inn provides a retreat worthy of the end of your day. They feature luxurious beds, designer linens, flat-screen TV's, complimentary Wi-Fi, hardwood floors and private en suite bathrooms.
Yet each bedroom also vaunts its own personality.
Petite Provence I
Sacrifice nothing in the petite yet beautifully appointed Provence room at our Inn in Cooperstown. A private outside entry, luxurious carpeting, soothing colors and a hint of French Country decor compliment the beautiful queen bed, beautifully tiled walk-in shower, and sliding doors that gather the breeze and lead you to a semi-private sitting porch with designated Adirondack chairs overlooking two acres of private lawn.
Enjoy a complimentary glass of Finger Lakes Chardonnay and read the paper, or curl up with a book and a cup of our custom blend locally roasted coffee.
Casey's Room
If you are looking for Cooperstown, New York hotels with luxury, service and location you have found something even better. Our beautiful inn features beautifully appointed
Cooperstown inn
rooms. Casey's Room is sun-filled by its large windows, this fabulously upgraded room with brass queen bed is decorated in warm sage and blue and complemented by leather and print accents.
Features include a magnificent maple floor with cherry inlay, overstuffed "finally finish that novel" reading chair, and 19th-century writing desk, all reflected by a stunning antique floor-to-ceiling mirror. But perhaps the most memorable part of this room is the "Dream Shower" – enclosed in glass block, this double shower (yes, room for two!) features eleven jets, including a 12-inch showerhead extended from the ceiling.
The Cooper Room
Are you looking for a Cooperstown, NY hotel? Try something extraordinary in our beautiful Cooperstown inn. Across the Hall of Literary Offenses, a custom reproduction of James Fenimore Cooper's portrait by Chappel peers back at Twain and marks the entrance to this spacious and airy room.
Relax in the plush wingback chair and enjoy the bird's eye view of 160-year old maples right outside your window. The beckoning king bed, newly restored wood floors, a spacious private bath with walk-in shower, and flat-screen TV call you back after a day on the town.
The Twain Room
Guests enjoy exceptional and luxurious lodging in our Coopertown, NY inn. Situated in our Hall of Literary Offenses, this room is named for Mark Twain, who, while writing at Quarry Farm, umpired baseball games in near-by Elmira, NY. Twain also had quite a bit to say about Cooperstown's favorite son and one of America's early premier novelists, James Fenimore Cooper, famous for The Last of the Mohicans.
The entrance to this second-floor room is marked by a museum-commissioned portrait of Twain and a retelling of his essay on Cooper. It features original hardwood flooring, a private walk-in shower, a double sink converted from an antique dresser, flat-screen TV, a king bed finished in designer linens, a bust of Mark Twain, antique baseball photos and some of the best breezes that blow through the Inn.
The Hemingway Room
Named for "Papa", a fanatical baseball fan and not a bad novelist who, while living in Cuba, built a baseball diamond that helped fuel that nation's love of the game. This second-story room in our Cooperstown, NY bed and breakfast, is a Movable Feast for your senses. Decorated with rich coffee walls, crown ceilings and a beautifully restored herringbone floor. Join us in our Cooperstown inn.
The room's décor hints of safari, but rewards with a sumptuous brass queen bed, basecamp leather reading chair, flat-screen TV and features wildlife art reminiscent of a savannah. Its private bath is among the more spoken-about rooms in the Inn, where an alluring Jacuzzi tub and shower rests against the exposed brick of the mansion's original chimney, creating a space unlike any other.
Petite Provence II
French Country elements in calming blue and grey tones instantly transport you to the lavender fields of Provence, while a private outside entry, luxurious carpeting, walk-in shower (ADA) and sumptuous king bed will make you feel like royalty. Sliding glass doors open up to a semi-private porch with Adirondack chairs overlooking two acres of lush green lawn- perfect for a late-spring picnic. This petite yet beautifully appointed French Country room at our Inn in Cooperstown is designed for maximum relaxation.
Get into a new book, or spend hours reading an old favorite with a glass of Finger Lakes wine and enjoy a little late afternoon sunshine on your face. This room is wheelchair accessible.
St. Somewhere
This is not like any other room in the Inn, or in Cooperstown. Got a mild wild side? St. Somewhere might be your perfect Cooperstown accommodation. Welcome to Duval Street, Key West, where luxury meets whimsy. Your lush king bed is topped with designer linens of terracotta. The walls are adorned with art collected from KW and the Islands.
The magnificent Dream Shower (yes, room for two!) features six body jets. Two plush reading chairs invite you to curl up with the Innkeeper's tattered copy of Jimmy Buffet's,
A Pirate Looks at Fifty
or the morning's paper. Take a walk on the wild side in our luxurious Cooperstown inn.
The Wyeth Suite
This spacious suite is named for one of America's premier artistic families and features limited edition reproductions of Andrew Wyeth. Among the Inn's more generous rooms this second story suite offers new ash floors, limited edition prints, and a queen bed draped in designer linens. Enjoy the private sitting area with a beautiful convertible leather love seat and large flat-screen TV, a perfect place to pass a rain delay, or just unwind before dinner.
The bathroom is large and bright. Outsized windows offer a view of the Inn's two-acre back lawn. View our many other Cooperstown inn
rooms & suites and plan your Cooperstown getaway.
Campanella Suite
Among the finest suites in Cooperstown, the newly remodeled Campanella Suite is our largest suite and part of the original mansion in our Cooperstown, NY inn. Sitting on the first floor, off the lobby, it contains 11-foot ceilings and original 'summer' doors. A grand cherry king-sized bed assures a pleasant sleep. Not tired? Wrap yourself in a cozy Landmark Inn robe, sit before the marble fireplace (seasonal) and read that book you've been meaning to.
Relax in Adirondack chairs on your private sitting porch. And when you're ready, the new luxurious bath awaits. It features marble, double vanity and a magnificent "Dream Shower" for two. The "Dream Shower" (a Landmark Inn exclusive) has three showerheads, four body jets and a handheld shower wand. Absolutely Stunning.
The Chance Suite
Whether this premier room in our hotel in Cooperstown, NY took its name from Frank Chance – he of "Tinker to Evers to Chance" Hall of Fame renown – or because it's considered by many to be our most romantic room, we will leave to you to decide. This sumptuous room is located on the first floor with a private entrance. The king bed is adorned with splendid designer linens. The herringbone hardwood floors – original to the house – lead to our signature bathroom which features both a double Dream Shower with nine body jets (yes, room for two!) as well as a separate soul-soothing Jacuzzi tub. Guests in this room will enjoy a private covered porch overlooking one of the herb gardens, a large circa 1860 sunlit bay window, flat-screen TV, central air, and his-and-her reading chairs. A romantic getaway in our Cooperstown inn awaits.
Spa Suite
Have your cake and eat it too in this regal suite designed for maximum relaxation. Grand twelve-foot chandeliered ceilings, a romantic fireplace, personal Infrared sauna for two, luxury tiled Dream Shower with body jets, large flat-screen TV, and a stunning upholstered king bed adorned in luxurious pastel linens all await you in the Spa Suite, perhaps the finest accommodation in Cooperstown.
Elopements & Intimate Weddings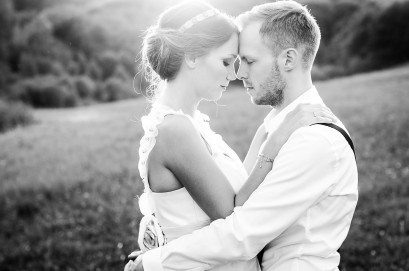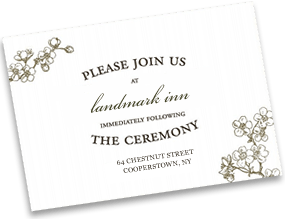 Looking to elope in Upstate New York? Well, what better place than Cooperstown? Hundreds of people come to Cooperstown to be married each year.
Our Inn sits on two of the most romantic acres in the village of Cooperstown, perfect for intimate Upstate New York weddings. With a whole house rental, our beautiful kitchen and grounds are yours to use as you see fit. Why not hire a local chef to come on site and prepare your rehearsal or wedding dinner?
Why not honeymoon in our most romantic room, The Campanella Suite? A beautiful private porch, Dream Shower for two, and fireplace included! View all of our stunning Cooperstown inn rooms.
Whether it's baseball that brings you to Cooperstown, or opera, or romance, or the museums, or just the desire to slow it down for a while, one of our distinctive bedrooms is sure to please. Overstuffed chairs and sitting areas are located throughout our Cooperstown bed and breakfast for your relaxation.
A Perfectly Home-Made Start to Each Day - Breakfast at our Inn!
After enjoying top rated Cooperstown, NY lodging, guests each morning will be greeted by their hosts and seated at a private table in our chandeliered dining room. Your table will be dressed in white and topped with china and fine stemware. It will overlook one of the Cooperstown bed and breakfast's original fireplaces or the garden, seen through historic leaded glass windows.
Elegant? Yes. But stuffy? Never. You will find the room filled with laughter, and stories being told.